Each year, the U.S. Environmental Protection Agency (EPA) honors a group of businesses and organizations that have made outstanding contributions to protecting the environment through superior energy efficiency achievements. Since 1992, the EPA's ENERGY STAR program and its partners helped prevent four billion metric tons of greenhouse gas emissions from entering our atmosphere. In 2020 alone, the program's emissions reductions were equivalent to more than five percent of U.S. total greenhouse gas emissions.
Highest EPA accolade
As a Service and Product Provider, Yardi is proud to receive the 2023 ENERGY STAR® Partner of the Year Sustained Excellence Award from the EPA and the U.S. Department of Energy after being named Partner of the Year for five consecutive years. The award is the highest EPA honor and celebrates companies that offer energy services and products in the commercial, institutional or industrial markets for successfully assisting their clients in strategic energy management and building design. This includes energy services companies (ESCOs), unregulated energy retailers and marketers, engineers, architects, energy consultants, contractors, distributors, manufacturers, commercial lenders, energy information providers and any other provider of energy efficiency-related products and/or services.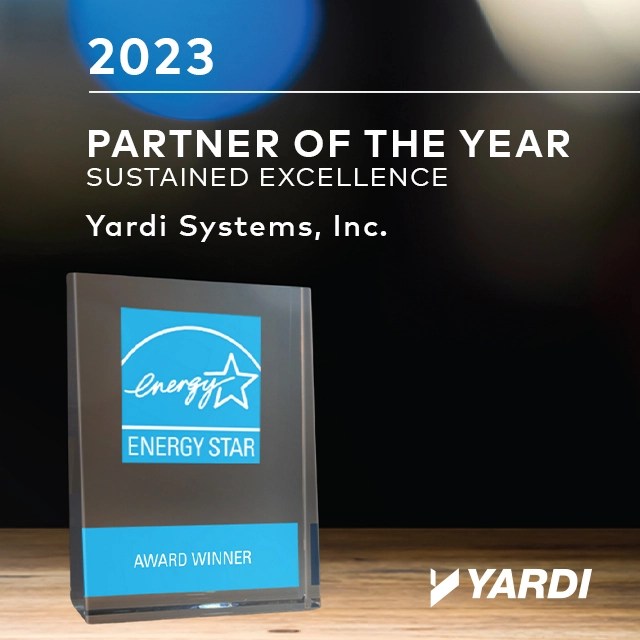 "As we accelerate historic efforts to address climate change, public-private partnerships will be essential to realizing the scale of our ambition," said EPA Administrator Michael S. Regan. "I applaud this year's ENERGY STAR award winners for working with EPA to deliver a clean energy future that saves American consumers and businesses money and creates jobs."
Energizing achievements
"We applaud our clients' impressive achievements, and we are proud to receive this honor from the EPA for the fifth consecutive year. Energy efficiency is a core component of our mission as a real estate technology provider. We remain committed to continuing to help the industry and our clients gain the utmost benefits using ENERGY STAR to meet sustainability and business goals as we all work together toward a clean energy future," said Joe Consolo, Yardi industry principal for energy.
In addition to promoting ENERGY STAR, Partner of the Year award recipients are especially adept at operating within the programs and work with ENERGY STAR to continuously improve and advance service offerings. The award acknowledges Yardi's efforts to educate and support clients with benchmarking services and technology solutions across real estate sectors. Highlights include helping clients benchmark energy and water in over 5,500 buildings, promoting the importance of ENERGY STAR scores to clients through education, training and visibility, including ENERGY STAR in Yardi's energy management software dashboard and publishing articles and social media posts on the benefits of benchmarking, energy management and conservation. At its annual user conferences, Yardi has provided digital energy courses for over 7,500 attendees.
Yardi also shares ENERGY STAR data to help clients gain access to green financing for buildings and has earned ongoing ENERGY STAR certification for Yardi corporate headquarters in Goleta, California.
Learn more
Find out how Yardi empowers real estate companies to meet energy and sustainability goals.
See the complete list of 2023 ENERGY STAR Partner of the Year award winners.